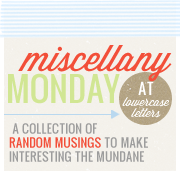 Good morning! I apologize that I wasn't around much last week, but I'm back and have a few things planned for the ol' blog this week... On with the random (and if you want to join in, you can click on over to Carissa's blog and link up!)!
~My dad came to visit last Wednesday, and we had a wonderful visit. My sweet Remy kept saying that he "sure must be lucky to have two Grandpa's". We had a lovely time just hanging out... Dad introduced the kids to the Toy Story movies, and a new obsession was born.
~While the first three days of my dad's visit were less than eventful, the last was not. On our way to lunch on Saturday we were in an accident. I had never been in a crash of any kind, but thankfully everyone in our car and the other guy's was okay other than some soreness and seat belt burns. My car, sadly, did not come out unscathed. We are now in the market for a new vehicle...
~I watch a ton of crime scene investigating shows and had always wondered what an air bag feels like. I wonder no longer... it's like being body-slammed by some giant dude. Ouch!
~Yesterday I woke up to the realization that I was out of coffee filters. I have been daydreaming about sewing one out of muslin, but at 7 am when I must have coffee to function, that is hardly an option. So my eco-friendliness reached new heights out of necessity, and I reused the one from Saturday. Yup, that's how I roll. And my coffee has never tasted better! (I'll let you know if I get one sewn... I'm super-excited about that!)
~Yesterday I tried this frozen meal that you put in the crock pot and leave for 8 hours. It was chicken and dumplings, and it was not good. We had some friends over, and they were nice enough to try my crazy, experimental dish. I wasn't at all offended when the littles asked for sandwiches, and I won't be trying that one again. Every Suzy-Homemaker bombs once in a while, right?
I'll be back tomorrow, have a great day!