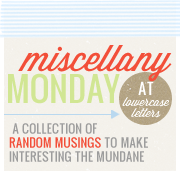 Happy Monday! Join in the random by clicking the picture above... =)
~Trace put up our tent last week and had a camp out with Remy. He was in heaven!! But it did take him forever to fall asleep... he was just too excited. The kids have since spent every afternoon bouncing and playing the tent. It's too bad we aren't happy campers, because the kids would love a real camping trip... maybe someday. Trace also sent a picture text to my mom, who was on her way to our house for Halle's birthday, to say that her mother-in-law suite was ready. =)
~My sweet girl turned 2 yesterday! I will have another post about her party this week, but I had to post at least one picture. Her party was tons of fun with tons of friends, and she was happily exhausted at the end of her big day.
~Today I am getting back into the gym after an almost 2 week hiatus. With the Nashville trip and then preparing for Halle's party, I just haven't made the time. I'm not looking forward to how sore I will probably be after TurboKick, but I know it will be worth it in the end... must get moving again!
~I am super-excited that I have ordered
Shane Claiborne's newest book
, and it should be here in a day or two. Looks so good!
~This week I'm wrapping up the Summer Study with Living Proof Ministries on Ruth. It has been a great one, and I am kind of sad that it's ending. I always hate the last day of something good, but I'm so thankful that I stuck with it despite busyness and summer insanity because God had so much to show me! Even getting up before the team in Nashville every day proved well worth it, and I feel like I was better prepared for the days of our trip. God is good!
Have a great Monday! I'll be back tomorrow with pics from Halle's Toy Story Party- her cake nearly killed me but turned out so cute!