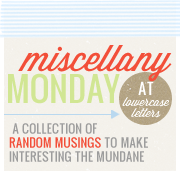 Happy Monday!! I hope y'all had an awesome Easter weekend! Ours was full of miscellaneous things, so it fits in well with today's post...
~The weather was perfect for the weekend. It rained on Friday, which I always feel is perfect for Good Friday... helps remind me what we are remembering. And then after a so-so Saturday, we woke up this morning to a glorious sunny sky for celebrating a Resurrected King.
Hallelujah
!
~The littles loved the egg hunt at our church on Easter morning. It was pretty chilly, and the ground was still a bit soft, but that didn't stop them from hunting for tons of candy. Another parent told Trace that as a parent you get 10% off the top... And truthfully, Halle is just as excited to find the eggs without knowing anything about what's inside. The thrill of the hunt, I guess...
~ We also took some time to make
Resurrection rolls
, color eggs, and have a spring scavenger hunt, but my crazy self didn't get any pics of those. The spring scavenger hunt is what we do on the Saturday before Easter in lieu of Easter baskets. I struggle because I have a hard time with traditions vs. the actual reason for the holidays. (You can see my thoughts on Santa
here
.) I don't want to be the parent that keeps my kids from doing fun things, but I also want to keep them constantly mindful of why we do what we do. So on the Saturday before Easter I hide eggs with clues around the house that lead to small prizes that I've collected.
~I've started watching Glee from the beginning on netflix. I love this show. I started watching it in Nashville, but when we moved for some reason our antenna doesn't pick up Fox. So along with Glee I've gotten used to not seeing some shows I really like, like 'So You Think You Can Dance' (is that even on anymore?!), 'House', and 'American Idol'. But Glee really is my favorite. I watch and relive my glory days from high school show choir. And any show that has Josh Groban guest star is on my list anyway... I'm only on episode 5, but I see a lot of this in my future. Any other Gleeks out there?
So what did you do this weekend? Today will be highlighted by taking both little ones to the dentist and doing some shopping with my momma. Happy, happy! See you soon, lovelies!