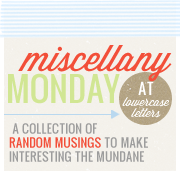 So it's been a while (blah, blah, blah, I know...), and I'm trying to get back in gear. Linking up with the sweet Carissa today because our life is full of random.

1. We had a nice, lazy weekend. Remy was dealing with a fever from Friday through yesterday, so our days included lots of snuggling, footie pjs (For the littles, not for us, though Trace really wants some for himself!), and special pancakes. As a side note, these pancakes really weren't as fancy as they look. Just put some batter into a squirt bottle and fill up cookie cutters in a hot skillet. Thankfully he woke up fever-free and is off to school this morning so I can get this house put back together in time for our small group.
2. I can hardly contain myself with all the amazing things happening at our church these days. God, full of love and grace like only he can offer, is pouring out crazy blessings, and we are just trying to be present enough to be thankful without letting the busyness keep up from truly seeing. More on this to come, I'm sure!



3. Last week we chopped off most of the Curly Girl's curls!! She has taken on the new habit of twirling her hair, and we kept ending up with a giant knot at the back. Add that to a girl who hates having her hair brushed, and it was disaster. So my friend Tiffany gave her the cutest little bob. She loves it, and so do I, though it makes her look like a little girl... the 'baby' seems to be going away more quickly than I'm willing to admit.
4. We have been so spoiled by nice weather in the last weeks! We spent Christmas at my dad's in Florida, and then we came home to sun and warmness... we haven't had snow yet either, which for Illinois is crazy! Praying that this keeps up!
5. I am jumping in on Glynnis Whitwer's
15 Day Clutter-Free Challenge
. Today is Day One, so there's time to jump in if you want. I'm excited to be digging out from under some of the mess and reorganizing much of our house. We don't really have a ton, but we do have more stuff than we need (that's the American way, right?!).
6. I've been wrestling with my word for this year, really digging deep and praying about the next 12 months. I've never really done this type of thing, but I feel like God is guiding me to live in a different way this year- molding and shaping me to be more like Jesus. I'm hoping to have a post on this soon, as my journal is busting since the new year.
Okay, so I guess I'm done for this morning. Halle is begging for someone to play Polly Pocket with her, so I'm off. Happy Monday, lovelies!!