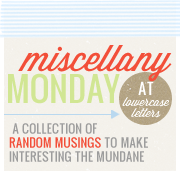 ~Typically I would begin with a 'Happy Monday' or other such greeting, but it's not so happy right now... MY COFFEE MAKER HAS DIED. I thought maybe I just did something stupid like forgot to turn it on or put water in, but no luck. This is not a good development. Must have coffee.
~In other, way better news, my sister had her new baby boy on Thursday, and I am an aunt again~ yay! Baby Miles Ryan joins big brother Reese and is doing great at home. 'Can't wait to see him sometime, though they are really far away... not sure when it will be, but I'd love to get my hands on the little guy!
~At last count, which was before bed last night, Remy had a total of 5 pieces of cake/cupcakes this weekend. When in youth ministry, graduation weekend is a constant stream of parties, and we also threw in a birthday party. The frosting was flowing, and my children were in heaven (and let's just admit it, I was too!).
~I spent a good part of this weekend's free time (which wasn't much) converting the littles' winter things into summer clothes. I blogged about this last year, I think, and I will hopefully have a post with pictures this week. My theory is that I wouldn't get more than a quarter for pajamas or a pair of leggings at a garage sale, and I totally couldn't buy new ones for that, so I just convert long pjs into shorts & short sleeves. And bunches of Halle's leggings became shorts or capris. 'Gotta love a cheap new wardrobe!
Okay, that's it for now. Feel free to join in on the 'Miscellany' by clicking the link to Carissa's blog above! Have a great day!

**Updated: My sweet husband picked up a new coffee maker for me this morning! **