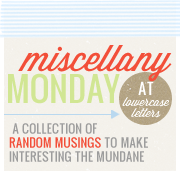 Happy Monday! Feel free to join in the random-ness by clicking on the picture above, and while you're there be sure to wish Carissa & Kelly congrats on their gorgeous new baby girl! She is quite the momma, looking so lovely and blogging while still in the hospital!
~Blogger has been down all day, and I've been trying to post. Very annoying... Sorry this is so late!
~This weekend we emptied Remy's and Halle's banks to buy Buzz Lightyear and Woody toys they had been wanting. We counted out the money to make sure they each had enough and then told Remy how much of it needed to be taken out and given to God for his tithe. My favorite thing about this was hearing Remy say on Sunday to one of his teachers that "Yes, I got this cool Buzz, but I also have three dollars to give to Jesus!" The way he said it was so sweet and he was genuinely excited to give the money to Jesus to help the little boy their class supports. I love seeing the character of Jesus blossoming in my littles!
~I am having a major desire to watch
The Goonies
after hearing about
this
that went on this weekend in Astoria. Has it really been 25 years!? One of my Facebook friends went, and I am sooo jealous! We actually have it, but it isn't one of Trace's favorites. I do, however, think my little man might like it, but I need to review it for scary stuff. I've seen it so many times I kind of forget if I used to be scared by it... Hmm.
~Strangely I don't have a lot to say today... that's pretty random indeed! We are watching Toy Story 2 for what may be the hundredth time, and I still think it's funny. I may like it more than the wee ones! have a great night, and I'll see you soon!