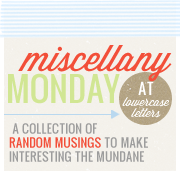 Happy Monday! I'm joining in on the random again... feel free to click over to Carissa's blog to join in!
~I had no intentions of taking a blogging hiatus last week, but it just ended up that way. With the littles and Trace in Indiana, I spent hours a day in Bible study, which was heavenly! I was so into my 'retreat' that I just sort of hibernated.
~I also got everything sorted and organized for our upcoming garage sale. I absolutely hate pricing stuff, but I'm glad to have gotten it done!
~Biggest Loser week was a great success. I'm not quite sure on actual pounds lost because I won't get to the gym to weigh until this afternoon, but since June 12th I have lost about 4 1/2 inches, and I am thrilled with that! Last week I got up the nerve to try out a few classes that I hadn't done before, which for me is huge! If you know me, you know I do not like getting out of my comfort zone and meeting new people. It was so much fun!
~Though I had a great week, I terribly missed my family and was ready for their return on Thursday! Halle cupped my face in her hands upon their arrival and said 'Missed you, Mama'... It was so sweet!
~Trace brought them these huge 'yollipops' the previous weekend at the denominational conference he was at... the kids thoroughly enjoyed them, though the stickiness continues to be found here and there. I love the look on Halle's face that sort of says 'Touch this and die'. She's very serious about her snacks!
Hope y'all have a great Monday!