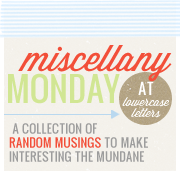 Good morning! Feel free to click on the icon above to join in on Carissa's Miscellany Monday! I'm not sure how much 'miscellany' I have for today, but we'll get on with it! =)
~I hate fireworks. (I know, "Every party has a pooper"...) I hate the noise, the bugs, and especially the annoying music. I think I played in the band for one too many parade or something, but whatever it is, I can't stand it. Fortunately at this point the kids don't like them either, so this self-proclaimed schedule tyrant didn't have to keep them up past bed time.
~Halle will be having a commercial birthday party extravaganza. I am not excited about this... I had visions of a Martha-esque ladybug party, complete with perfect party food and tutu. But the other day at the local Big-Box chain store, my girl happened to see the entire aisle of Toy Story Party supplies and has been talking about 'Jessie Toy Story Party' ever since. Remy has been encouraging it, of course, and who am I to deny my little princess?! So we've become those people.
~Remy begins swim lessons today. He is really excited, but the catch is that it's one of the classes that requires parent participation. (We weren't sure how he'd do in a class by himself because he's so timid...) So I'm hoping this momma is bathing suit ready- I may have to squeeze in an extra workout before class! =)
~Man, I'm a whiner today, no?! I really am in a pretty terrific mood, despite the three things above! Halle was sick yesterday, but she seems to be feeling better this morning, and Trace is off today, so who knows what the day holds! I love a clean calendar! Ooh, speaking of, maybe I'll put 'cleaning' on the calendar~ I love that! ;) Hope y'all have a wonderful day!