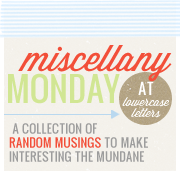 Happy Monday! If you want to link up with Carissa's Miscellany Monday, just click the icon above~ she'd love to have you! Now on with the random musings...
1~
I am happily drinking good coffee this morning after about a week of drinking this nasty stuff that shall remain nameless. As someone who loves coffee, I should have known better than to buy an unfamiliar brand on sale, but I do love a bargain. So even after opening this particular brand and noticing that it smelled like feet, I was suffering through it because we paid for it after all. Trace finally threw it away, even after my protesting. And I am thankful.
2~
We went to the water park on Friday, and I didn't get a single picture. Not one. We had been promising Remy a trip all summer, and I happened to notice that the sign said that Saturday was the last day... so Friday I recruited a few students to go with me (I need all the extra hands I can get!), and we went for a few hours before nap time. It was great fun for everyone, though even my sunscreened babies got a little burnt. I'm thinking of writing a letter to the sunscreen people!
3~
I finally bit the bullet and decided to get a blog & shop makeover! With the holidays approaching, which brings with it mayhem and drama in my sewing area, I am ready for a change. So excited!
4~
I have indeed become one of those grannies who can't drink anything with caffeine after about 6pm. I never thought the day would come, and frankly I always thought people were just imagining it. But after several late nights lying in bed staring at the ceiling I have to admit it. I am old. There, I said it.
5~
We had a busy weekend, so I'm happy to say that Trace will be staying home today
and
tomorrow, which is delightful! I'm hoping not to push the kids off on him
too
much while I try to get some work done, but I can't promise anything...
Have a great day! Laundry has piled up long enough, and I need to get to it...