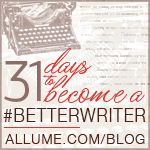 Allume is hosting a series for improving writing, and I decided to go ahead and post the assignments here for posterity's sake... Be gentle if you want to comment, haha. I'm always looking for ways to improve my writing skills (or lack thereof...). And if you want to join in, hop on over!
Today's Challenge is: Write five nondescript sentences. Look at them again and re-write them to show and not tell what was happening. Go over them one last time and pump them full of interesting and descriptive words to really drive your point home!

Simple Sentences:
1. Halle woke up happy.
2. My dog tracks in mud.
3. I found a great dress on sale.
4. That was a good recipe.
5. I hear birds singing.
Show vs. Tell
1. Halle got out of bed all snuggles and smiles.
2. My dog's annoying habit of tracking mud into my clean kitchen makes me crazy!
3. I'm so excited that I got a great deal on the perfect dress for Easter!
4. I tried a new pulled pork recipe for lunch, and not only was it simple to prepare, but it tasted amazing.
5. I love that as the seasons are changing, I can hear birds singing during my morning quiet times.
Spice it Up!
1. After a sound night's sleep, Halle came out of her room all snuggles and smiles ready to start the day. A well rested, singing toddler makes for a great morning!
2. Rueger, our precocious doberman, has a terrible habit of tracking mud onto my clean kitchen floor after his many hunting adventures in the backyard.
3. Imagine my surprise when I not only found the most perfect blue & yellow floral Easter dress in my size, but upon taking it to the register, I was told that it was on sale as well. Score!
4. After finding a recipe for Root Beer Pulled Pork on pinterest, my curiosity was peaked and I had to try it. Not only was it super simple and fast, but the flavor was amazing, and everyone in my family loved it!
5. I am reminded that spring is just around the corner, as every day during my morning quiet time the sun is rising earlier, and I can hear the songs of birds. They seem to be as happy as I am that the seasons are changing and warmer weather is on its way!
I've been thinking lately about why I write. Why I write volumes in journals that will never be seen by anyone but me and God. Why I write notes on napkins and gum wrappers. Why I write poems in my calendar and lists on receipts. I am a writer. I love the feeling of a Pilot G-2 in my hand (only the World's Greatest Pen, if you didn't know!) I scribble notes during sermons and phone calls and movies... God has given me words, and it's my responsibility to use them. Wisely. Carefully. Words can be life or death to a person or situation. That's a lot of responsibility, right?