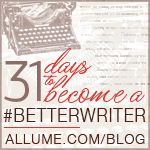 Today's writing assignment is to write the post that has been nagging on you... the one that you are hesitant to write because it somehow doesn't fit into your 'niche' or makes you nervous to hit the publish button.
I was standing in the kitchen just now, chopping carrots and listening to the littles swinging from the tree in the backyard thinking about this challenge. I don't think I necessarily have that post. I haven't ever really felt like I had a niche to stay in. I think the posts that make me the most scared to hit the button on are the ones that expose me and force me to come face to screen with my own ugly. And I have a lot of ugly. But the thing that God has been teaching me over the last months is that putting those things out there, writing as He guides me and then publishing them lets the Light hit them. And I'm more likely to turn from all that darkness if it's been outed. I'm grateful for that!
So last week I was confronted with some ugliness in my life. A craving that just popped up. Sin. For our first Christmas together, Trace bought me an Empire Red Kitchen Aid Mixer. Upon purchasing it, his friends told him he was writing his own death sentence~ "You're buying her an appliance, and you aren't even married yet?!" But my man knew this girl. And I was beyond thrilled. Ten years my beloved mixer and I have mixed and made, kneaded and whisked. She has been an ever-loyal companion.
Well, in the midst of making dozens upon dozens of cookies in the last few weeks, I began to tire of having to mix each batch of dough individually. Wouldn't it be nice to have a mixer with twice the bowl and motor capacity? Wouldn't it be great to have a pouring shield that would keep powdered sugar from attracting all the ants into your kitchen? And so I began to search online for an upgrade. And I found it in the pro series. And I began to want it. Crave it.
I told Trace, and he agreed... justified it even. I deserved this. Isn't it funny how things begin to snowball? I had talked myself into it, and even Trace was telling me to just buy it. But for some reason I couldn't. So I talked to God. Thank goodness I had a clear head to do that! And as He is faithful, He spoke to me: A craving for more is ungratefulness. Sin. Ingratitude. Unthankfulness for what He says is enough. Ouch.
I was confronted by my own prayers... I pray 'give us today our necessary bread' and then ask for extravagance because I don't feel content with what He's deemed necessary. Proverbs 30:8 says 'give me neither poverty or wealth; feed me with the food I need'. And in that moment, that exposed and painful, wound-exposed moment, I dropped to my knees and confessed my sin. And I can truly say that in that turning moment, in agreeing with Him about my sin (that's what confession means, after all) and in the walking the other direction of it, I felt truly content. Deeply. Because it's enough.
"for I have learned to be content in whatever circumstances I am." Philippians 4:11