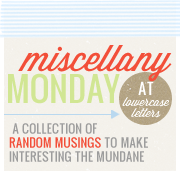 Happy Monday, sweetie pies! We had what felt like an insanely rushed weekend, but thankfully things will be slowing up a bit. Linking up with the lovely Carissa if you want to join in!
~The Cake! So it turned out pretty cute, if I do say so myself. The only thing I had to go on was that the birthday girl liked purple and flip flops, so I just went with that. My customer said that it was the hit of the party and that (perhaps more importantly) it tasted great, so I deem this a success!
~
Free Time
~ This week is a big one for me and Trace. Today after a short trip to the local waterpark, Trace is taking the littles to spend an entire week with his parents. He's dropping them off and heading home so we can have some child-free time before he and the youth team leave for Canada on Saturday. I'm excited to be able to have some date nights and maybe even go to a late movie or something out of character for us. (I know, we are real party animals, right?!) The kids are so excited and have been constantly talking about eating junk food and water fights... hopefully they'll limit the junk food, but I know they'll have a great time.
~God speaks~ A pastor friend from Nashville came as a guest speaker at our church this weekend. It was awesome to have someone come and spend time just taking in all God is doing here and also to encourage us. At one point we were having a prayer time, and he spoke into my heart some things that only could have come from God about who I am and where I need help. I am so thankful that God is gracious to give and that others allow themselves to hear and speak words that God entrusts to them. I feel wonderfully understood and loved by a Savior that cares for me as an individual.

~Time Out~ An update on the potty training front... not going so well as it started. On Thursday I took my girlie to the er after she didn't go (potty or otherwise) for over 12 hours. We were nervous about her getting or having a UTI, so we wanted to get her checked out. Of course she went in a diaper as soon as we got checked in! So we took a few steps back... all along we've said that she would initiate the whole thing, so we're just going at her pace and seeing what happens.

So what are you up to this week? I have several brunch/coffee dates planned in the time while Trace is working, but other than that, I'm thinking I'll just be lazy. I'm hoping to get in some writing time and just be quiet with God. Rediscovering what free time is...