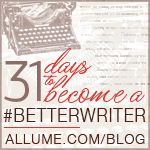 Today's Challenge is an exercise in writing with one's own voice. The action step is to make a list of ten things that you are passionate about (that's the easy part!) and then choose one of them to write about. Tell why you are passionate about it, the story behind it, the ins and outs. My list wsa pretty quick to write up, and I could write long and hard about all of them. But one stuck out to me because I realized I hadn't really written much here about it. I am heartbroken for and deeply moved by the orphan crisis around the world.
Pure and undefiled religion before our God is this:
to look after orphans and widows in their distress... James 1:27

God's call and His word are clear. We are to care for the fatherless and the oppressed. I think especially after I became a mom, I have had a deep-seated grief for the children in these positions... of having no one who calls them their own. I have prayed for orphans. We have sponsored a Compassion child for a long time. But I have never felt equipped to actually do anything about it. Have you ever fallen into the thinking that if you can't save them all it's not worth trying? I think a lot of us fall into that, the problem seems so big. But there are so many ways, little ways that we can help one. Love one.
Last year, actually around this time, I felt that God wanted me to pray for Uganda. It was strange and definitely God. I had never wanted to go to Africa. Other than our Compassion child in Kenya, I had no frame of reference for anything African. But I agreed to pray. And I dug in deep. It wasn't going away, gnawing at my heart, and I knew something bigger was unfolding. For months I prayed, just in my quiet, but without ceasing and truthfully without much action otherwise.
Then through a series of online events, I 'stumbled upon' (though we all know that Jesus-followers don't just stumble into anything, agreed?) Katie Davis' blog and her organization,
Amazima
. This momma's heart of mine was in awe of her ministry in Uganda. She has adopted 13 girls and cares for many, many more. She is Jesus in ways that are incredible. Through more research I saw that the organization
Visiting Orphans
was taking a trip to Ethiopia and Uganda in June of 2012. As I saw the trip and dates on the screen it was like the words came flying out and God said 'Go.'
So I'm going. This summer for two weeks, I will be joining a team on the ground in Africa loving on orphans and trying to be the hands and feet of Jesus. And I'm terrified. Because this is so awesome. And because I feel like I will be walking out in blind faith and obedience. ("What, God?! Raise a huge amount of money and go with a team of people I've never met to a far off place and love on some little ones?!") And Jesus wants to use me to be Him to these sweet children of His. I would love for you to join alongside me in praying for these precious, created in His image kids. Not just for my trip, but that God would be glorified and this crisis around the world would be ended.
I didn't really start this with the intention of making it a 'commercial', but if you would like to find out more about
Visiting Orphans
, you can go to their site- God is using them to do some awesome things around the world! There is also a place where you can donate or purchase items. (Shameless plug, if you would like to donate to my trip, please put 'Mandy Pfeiffer- Ethiopia/Uganda June 2012' with your donation or purchase. Thanks!)