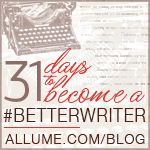 Today's Better Writer challenge was to pick two topics and brainstorm about them. Get them out onto paper and just dump all the ideas that come. I love brainstorming. And I actually have a ton on my mind, so the practice was a great one for me this morning. I am also rejoicing that I actually had time to sit down and do it... Halle-lujah went back to school this morning, so I had the morning free to 'work'.
I must say that my favorite thing about this challenge so far has been that it has kept me consistently getting words out. I have really felt like God is calling me to write, but until I make it a priority, it obviously won't just happen... have to get pen to paper. And this has been just the 'monkey on my back' to get me to do it! I can't wait to fill y'all in on the project I'm working on~ hoping to reveal next week a culmination of some things God's been doing in my life! Today's assignment was just what I need to get some clearer thoughts on a small piece of what's next!
Completely random, but I also wanted to throw it out there that I made
these
last night. And they might have been awesome.