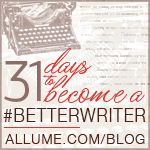 Today's Better Writer assignment is to write a 'stream of consciousness' post. To just let the words spew out without a thought as to editing or correcting... And let me just say that this terrifies me. I am a perfectionist. And while this kind of writing may help me lay that side down a bit, I don't have to like it. It's uncomfortable. I'm a girl who likes to be liked. I like to edit and clean up and make sure things are just right. But that's also what God has been asking me to lay down, isn't it? I've actually talked about that a lot in this space. So I'll write...
Today has been a pretty good day. I woke up and had nearly two full hours of quiet before hearing Remy's sweet stomp down the stairs. He immediately wanted to watch 'Knight Rider' (thanks to the influence of my 80's tv show and car-loving husband...), and the theme song has now been stuck in my brain for 7 hours. Nice. I took Halle to dance and started reading a pretty interesting book on Spiritual Warfare while I waited for her. It was hard to read with the distraction of the tapping and music from her class. I really can't stand that they don't let us watch, though I understand why...
We came home and I decorated another batch of cookies while my girl played on the table with water in her Barbie Water Park set. She had a blast splashing and dunking all the Strawberry Shortcakes and her conversation with them and me kept me entertained as I piped. I really love making cookies... I also am so thankful for the orders right now. Looking at the cookies and my girl and the things around us, I step back and am just in awe of the way God takes care of us. We are the richest people I know. Deep sigh.
Now Hallelujah is begging me to play, so I stop. Stream ended. Happy Wednesday!