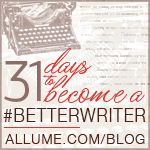 Hello, lovelies! I'm a few days behind... I've been reading books to Halle while the cookies bake, crafting paper Holy Week stories while the icing dries, and catching up on laundry while packaging about 12 dozen cookies this week. With each one saying thanks to God for bringing in these orders that are supporting my trip to Africa this summer. Grateful but exhausted. So I have been reading the challenges and thinking of responses over the kitchen sink, but the words just never made it to the keyboard.
But I'm here tonight with a few minutes to breath. And what do I do when breathing but write... And it's fitting then that yesterday's assignment was to share why I started blogging and what my dreams might be for this medium of writing. I started blogging about three years ago when my littles were really little. I began mostly because their grandmas wanted pictures, and I wanted a way to share them easily without much hassle. I thought a blog would be a way to tell a few stories and catch up the curious relatives. What I didn't realize was how much I would have to say, or that anyone would even listen.

A few other friends and family began 'tuning in', and I started to expound a little. Our days were full of doing fun everyday things, and I began sort of preschooling with Remy, so I started telling a bit more about the goings on in our home. It was a natural process for me, as I've journalled for most of my life. I didn't really have any dreams of growing or of the blog becoming more than a family journal, but I knew that I liked the process and having a place to store the memories (mommy-brain zapped my ability to remember anything!).

It was around this time that I discovered the world of blogging in its fullness... I was completely sucked in by the inspiration, the community, and the craftiness! This stay-at-home momma suddenly wasn't completely alone, and in the quiet moments while Trace was on the road I found that some of these communities and relationships kept me from a complete fog. It was around this time that I began to dream for my blog, I think. I felt like God was crafting in me a story that He wanted me to tell. I began to share more about the goings on in our home and my heart, and while I gained some readers, the healing I gained simply in the telling was miraculous.

I want the space where I write to be a haven. Much like I feel God calling me to create a haven for my family in our home, I feel He's calling me to carve out an online space for other moms and homemakers to find vision, rest and peace. He has placed a call on my life to ministry to other moms and homemakers, and while a large piece of that actually takes place around the table in my home, I believe part of it will be shared in the space where I write. And though I'm still putting together a few of the pieces, I guess I can reveal that I'm going to be moving to a new blog home soon that will sort of culminate this vision for ministry called 'this shared life'.

My prayer is that God would use me. That may sound over-simplified, but with all my heart I just want to be obedient to whatever it is He's called me.