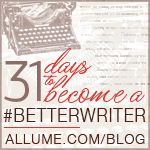 Well, yesterday was a crazy day, so I missed posting the challenge. But I was thinking about it! The challenge was to write something from your perspective, something from your unique voice. Truthfully first thing in the morning I was stumped. The voices in my head were telling me that I'm not unique... 'just a mom'. But friends, I know those voices aren't from God and that is not what He says about me. So I pushed them and out and went about my day. But I still couldn't really think of anything that makes my voice on this page different from anyone else's.
My day yesterday was long. A long, drawn out day with an even longer to-do list. But after it had been put to bed (literally!), this morning I woke up blissfully looking back in deep thankfulness to a Great God, because I spent the stretched out hours doing exactly what He's called me to do.
I'm living in the sweet spot.
Thrive
is the word He's given me for this year, and it's days like yesterday that remind me what I'm living for... Amidst the chaos, the feeling like I just may not get everything done, I handed it all to Him, and in His peace, I made the most of each moment. A couple of hours shopping for something that doesn't seem to exist, taking my girl to and from preschool, then nearly ten hours at my table making cookies. I chose to see it all in the light of His Presence and just do.
A sweet friend, home from college joined me for much of the afternoon. As I rolled dough and we made treats, we talked about life and laughed about boys and I stopped every once in a while just to thank Him that through this little bit of Housewifery life is shared at my table. Because I have sort of a mission statement, and that is it exactly: He has called me to pour into others as we gather in my kitchen, as we work these doughs and days with our hands.
Do you have days where at the end, though the hours are long and exhausting, you wouldn't trade a second because you know that you're sitting right in His mighty hand, right in the place He has for you? I'm praying that you do, lovelies! That you diligently seek Him and find His place for you~ that you can thrive there! And I pray that this perspective of mine wouldn't be unique to me, but that you too, through His renewing of your mind you will be able to discern His good, pleasing and perfect will! (Romans 12:2)